Paul Conrad, the editorial cartoonist for the Los Angeles Times (1964 to 1993), did a cartoon in the late eighties or so on the nuclear arms race. He called it "Chain Reaction." It was a drawing of mushroom cloud composed entire of chains. As a WWII combat veteran (Anzio and such) he was not, by nature, a big fan of war. He'd seen enough. And the idea of nuclear war appalled him.
In 1991 this cartoon was transformed into a thirty-five foot metal sculpture. It was placed right across from the Rand Corporation in Santa Monica. Cool.
It's still there. Rand has moved.
Here it is…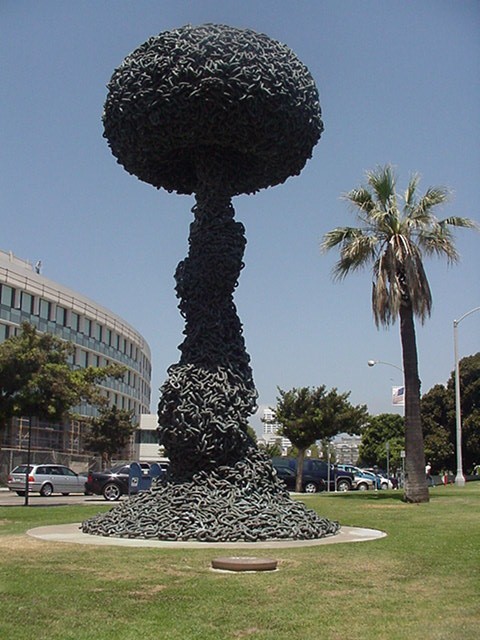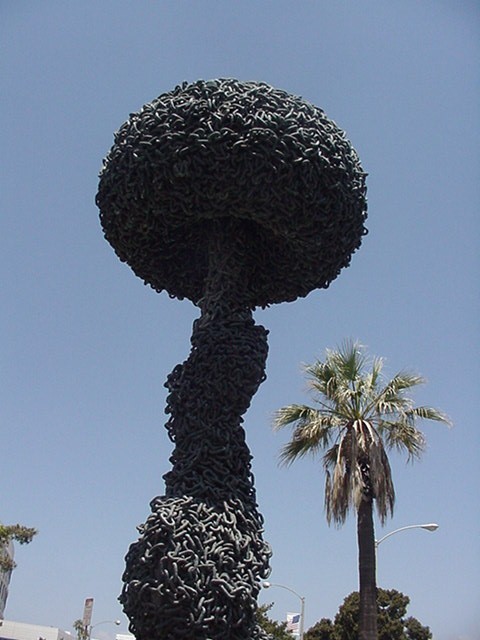 The cloud.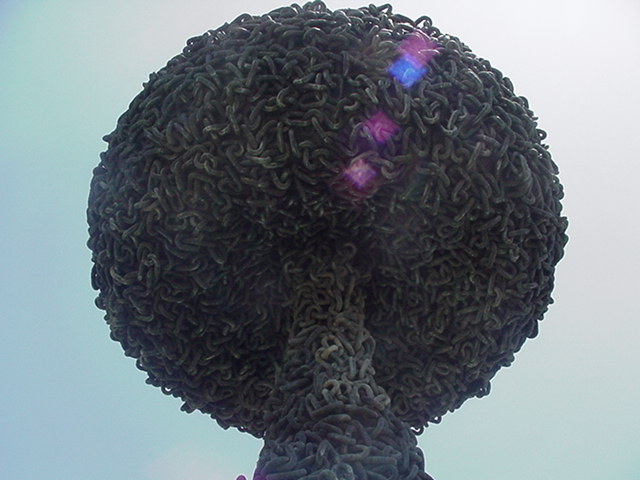 The chains.
Oh, and by the way, Conrad is good. Way back when Nixon had his enemies list, and keenly felt everyone was out to get him, Conrad drew a cartoon of Nixon driving nails into his own palms. Christ, it was good cartoon.
His bio is here.
Excerpts –
In addition to three Pulitzers (1984, 1971 and 1964), Conrad has won two Overseas Press Club awards (1981 and 1970). In 1988, the Society of Professional Journalists/Sigma Delta Chi (SDX) honored him with his sixth Distinguished Service Award for Editorial Cartooning - making him the only journalist to win that many SDX awards in any category since the annual competition began in 1932 (he also won in 1982, 1981, 1971, 1969, and 1963).
His favorite distinction: His 1973 inclusion on Richard Nixon's Enemies List. His favorite irony: Holding the Richard M. Nixon Chair at Whittier (Calif.) College (1977-78).
Amusing, no?




Copyright © 2003, 2004, 2005, 2006 - Alan M. Pavlik
_______________________________________________
The inclusion of any text from others is quotation
for the purpose of illustration and commentary,
as permitted by the fair use doctrine of U.S. copyright law.
See the
Details
page for the relevant citation.
This issue updated and published on...
Paris readers add nine hours....
________