Venice Beach:
Everything you imagined a Los Angeles Beach would be. Can't get here? Here's a taste –
And for a real time view, if you have a fast connection The Venice Beach Webcam – updated every few seconds.
1. A life-long fan hears a band play at the Venice Beach. The band is not identified, nor is the young fan, nor her tatooed father.
2. Skateboarding was invented out here, so….
3. Photographer's note: The free samples were good.
France:
And if you cannot get to the south of France this week, our correspondent in Chicago (just returned) will provide a fix here:
Photographer's note:
I don't remember where this was. It could have been any one of a dozen villages. St. Paul de Vence, maybe.
But let's not overly romanticize sunny Provence…. There is crime, as you see from this sign at a gas station somewhere in the mountains of the Luberon, somewhere north of Apt – "They may not have as many guns as the US but, alas, they have some ..."
And they have graffiti – even in Arles, that town Van Gogh made us all love.
Photographer's note: Atkins diet acoloytes in Arles? This confused me until I got home and Googled it. This was the work of the Arles Green party, registering their opposition to genetically modified food or OGM (organismes génétiquement modifiés). [ Los Angeles graffiti isn't so high-minded and political. ]
And here's a mind-bender - a French sign for a Thai restaurant in Provence with an American slang implication – "Cook tonight? No, phuket ..."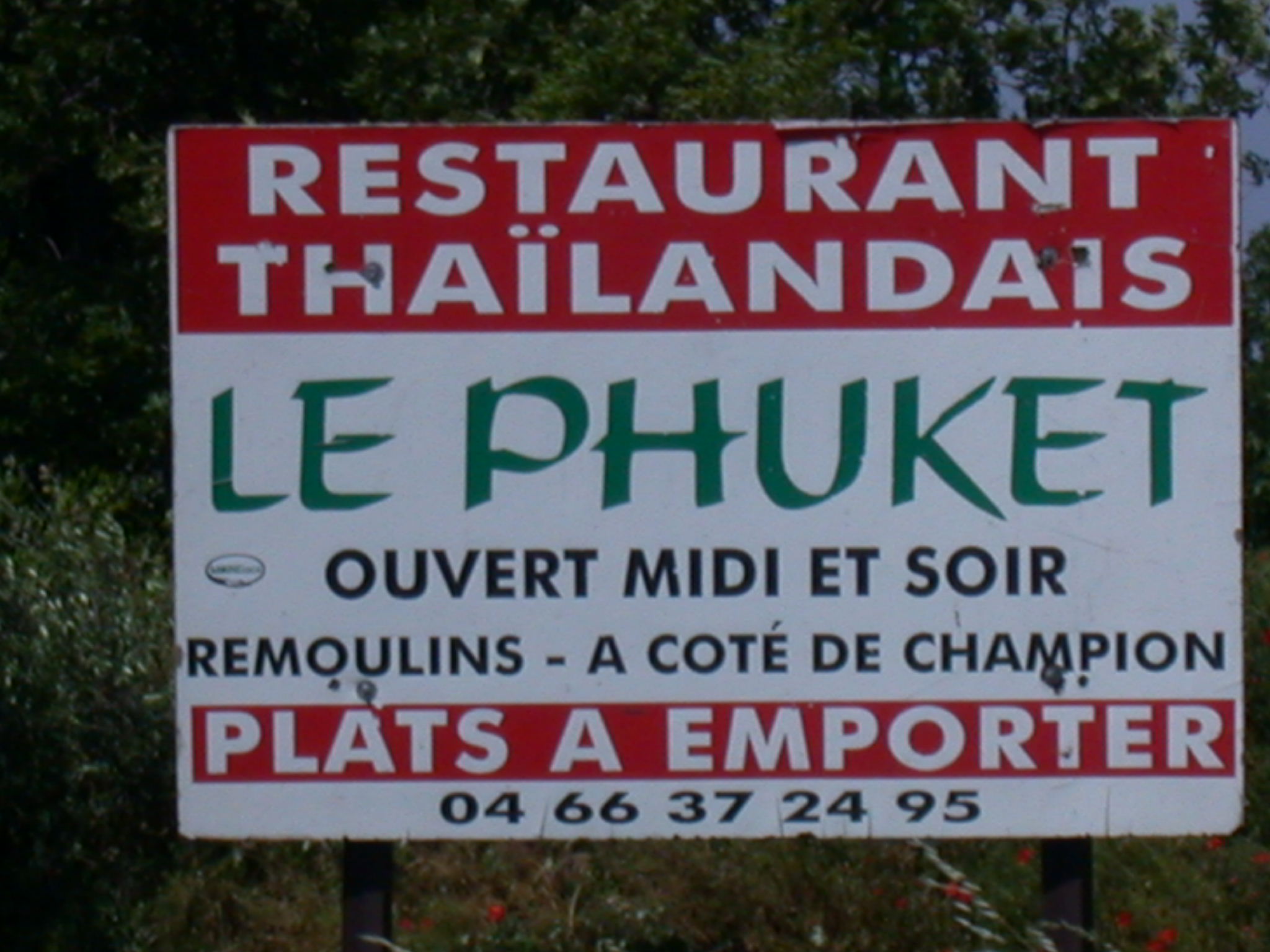 Companions:
Classic pet shots, Dingo and Phoenix, of London, Ontario, Canada. From a fellow who used to work for me when I lived there for two years. London is a fine place.