Note: These are digital photographs I snapped using a Sony Mavica digital still camera (MVC-FD-88) with built-in digital zoom (telephoto). Feel free to use them as you will.

If you use any of these photos for commercial purposes I assume you'll discuss that with me.

_______________________________________________
White Castle – There are movies, and there is the real world….
Harold & Kumar Go to White Castle
Release Date: July 30, 2004
Studio: New Line Cinema
Director: Danny Leiner
Screenwriter: Jon Hurwitz, Hayden Schlossberg
Starring: John Cho, Kal Penn, Anthony Anderson, Dan Bochart, Steve Braun, Brooke D'Orsay, Ethan Embry, Paula Garcés, Luis Guzmán, Neil Patrick Harris, Jon Hurwitz, Sandy Jobin-Bevans, Kate Kelton, Jamie Kennedy, David Krumholtz, Bobby Lee, Christopher Meloni, Ryan Reynolds, Hayden Schlossberg, Siu Ta, Eddie Kaye Thomas, Dov Tiefenbach, Robert Tinkler, Fred Willard, Gary Anthony Williams
MPAA Rating: R (for strong language, sexual content, drug use and some crude humor)
Plot Summary: In the great cinematic tradition of "Road Trip" and "Dude, Where's My Car?" comes "Harold & Kumar Go to White Castle," which follows two likeable underdogs who set out on a Friday night quest to satisfy their craving for White Castle hamburgers and end up on an epic journey of deep thoughts, deeper inhaling and a wild road trip as "un-PC" as it gets. John Cho ("American Pie 1 & 2") and Kal Penn ("Malibu's Most Wanted") take on the title roles in the film directed by Danny Leiner ("Dude, Where's My Car?"). "Harold & Kumar Go to White Castle" is produced by Greg Shapiro and written by Jon Hurwitz and Hayden Schlossberg. The film features cameos by Ethan Embry, Jamie Kennedy, Anthony Anderson, Ryan Reynolds and Luis Guzman.
It's not like that. At the intersection of Inglewood and Washington, a bit inland from Venice Beach, we find a White Castle that went south, so to speak. The franchise here failed and this one turned more local. It became the little castle - El Castillo – and adds an overlay of Tijuana seedy charm to the American tradition. Things change sometimes when they reach the far edge of America.
And you see in the third shot the serve menudo (a sort of spicy tripe soup that is supposed to be great for hangovers)...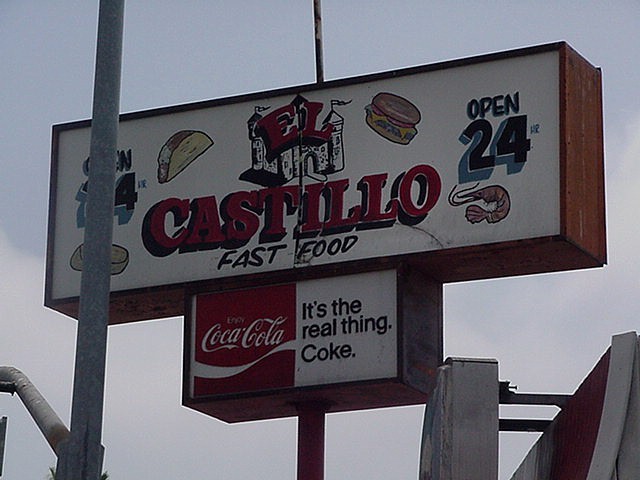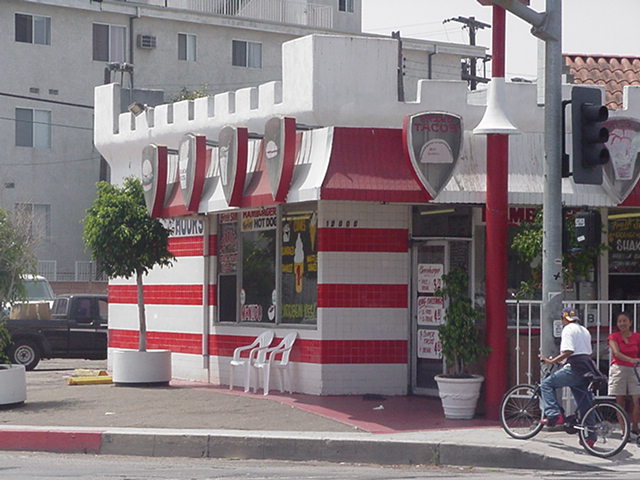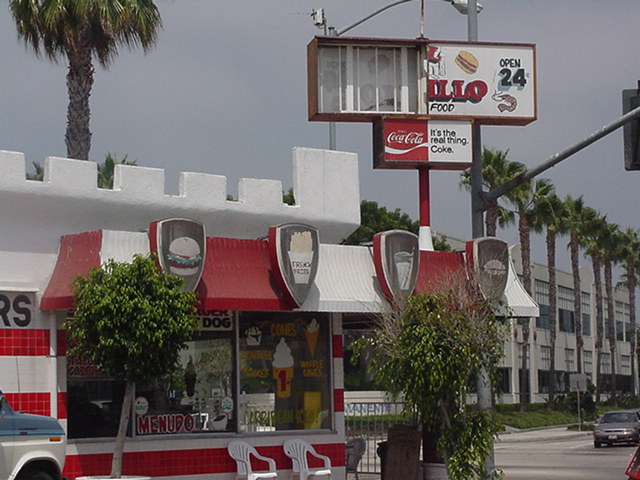 And this - on Sepulveda Boulevard in the Mar Vista section of Los Angeles – the parking authority housed in a building designed to look just like a parking meter – with a coin slot and everything. Well, Los Angeles gave you the Brown Derby and Randy's Donuts.