Note: These are digital photographs I snapped using a Sony Mavica digital still camera (MVC-FD-88) with built-in digital zoom (telephoto). Feel free to use them as you will. If you use any of these photos for commercial purposes I assume you'll discuss that with me. Note: These are actually thumbnail previews. To see a full-size high-resolution version of a particular photograph click on the image. You will see the full image in a separate window.

________________________
Old Hollywood
The ultimate classic Hollywood apartment building from our Golden Age out here… the thirties –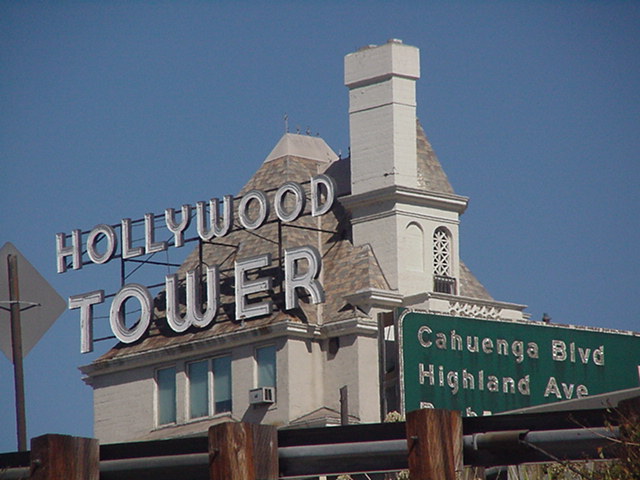 The apartment building, the Parva-Sed, where Nathaniel West lived when he was writing Miss Lonelyhearts – 1817 North Ivar Avenue at Yucca – just up the hill from Hollywood Boulevard. And note the appropriate heap of garbage in the front courtyard, keeping with the tone of how he felt about Hollywood.
But from the front step you can now look down the hill at the Sunday morning Hollywood Farmers' Market – Hollywood and Ivar - with the Cinerama dome in the background.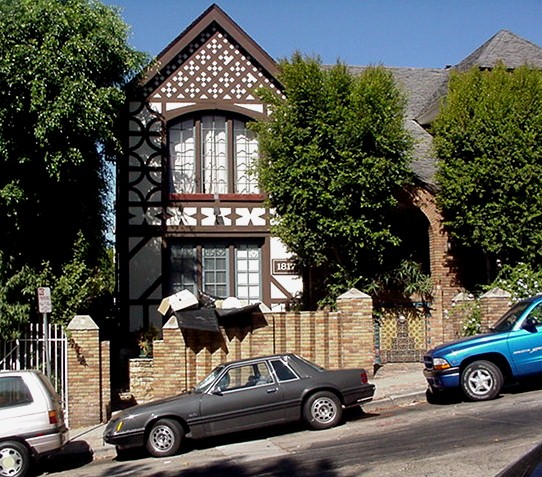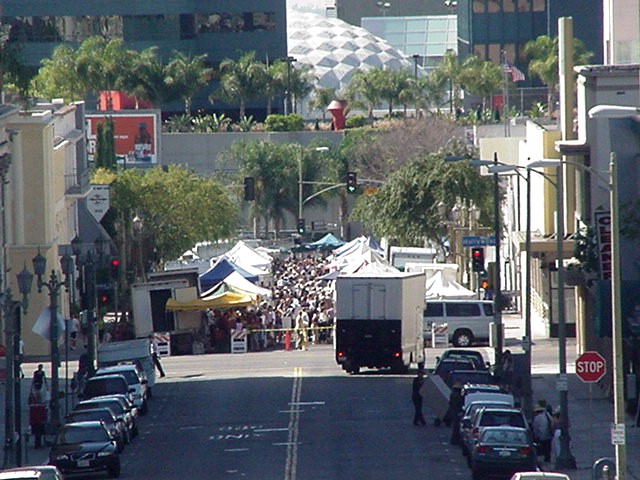 Keep going down the hill and you'll find the old RKO studios at Melrose and Gower, with its pastel globe from the old days. Joe Kennedy, then Howard Hughes, then Lucille Ball and Dezi Arnez once owned the studios. The place is now owned by Paramount. The Fred Astaire – Ginger Rodgers movies were filmed here. As you see from the billboards on the façade, the sound stages here are still in use all the time.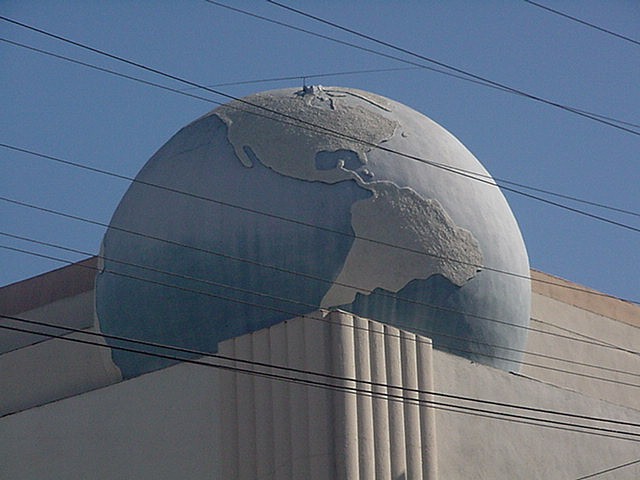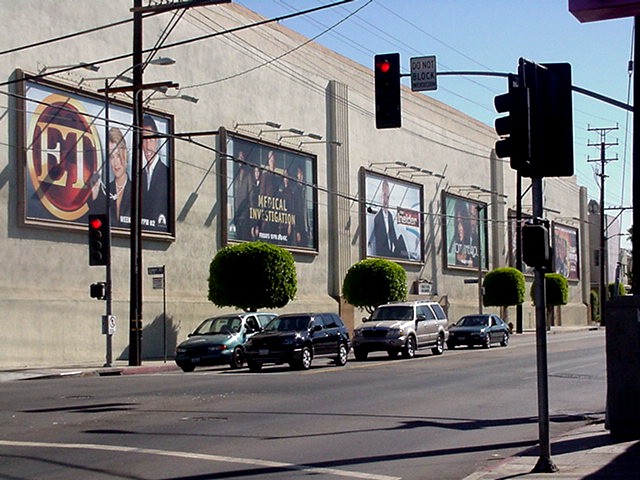 The Montecito Apartments near here on Franklin Avenue, a moderate walk away, is you basic Hollywood thirties silliness – art deco meets Mayan or some such thing. The building is listed on the National Registry of Historical Places. Folks who used to live here? James Cagney, Mickey Rooney, Geraldine Page, Rip Torn, George C. Scott and Ronald Reagan.
It is now a "residence for seniors" as you can tell by this shot of the entrance. The feathery trees soften the brutality of the place, but as you see from the back, it is a rather hard-edged place. Oh, and the windows are open because at ten-thirty in the morning this day it was already 103 and dry as a bone – no clouds, too hot for smog, the sky deep blue – the kind of day that makes men mad with rage and women swoon. A Hollywood day.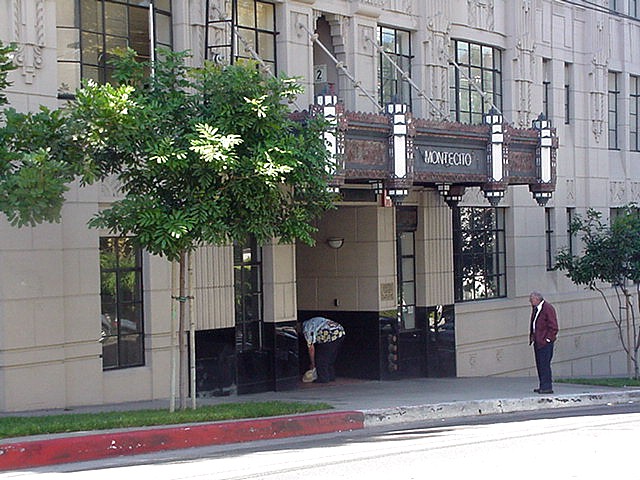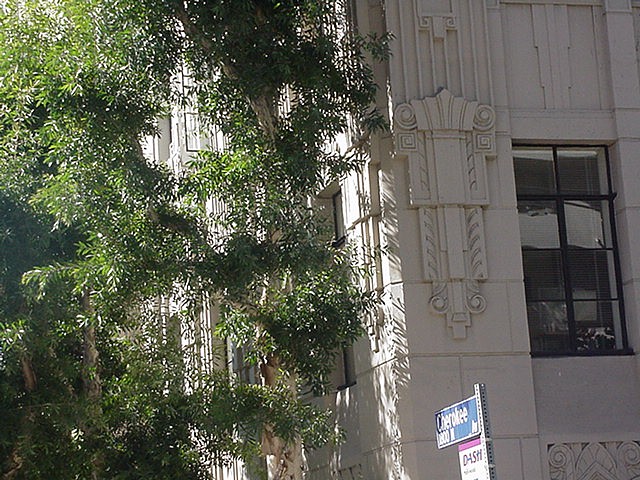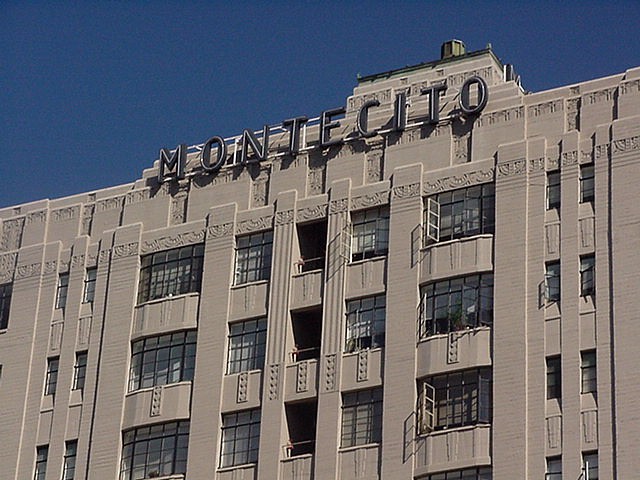 Here are the faces of Hollywood – the mural on the side of Hollywood High School, Sunset at Highland.