If you use any of these photos for commercial purposes I assume you'll discuss that with me. Note: To see an actual-size high-resolution version of a particular photograph, click on the image. You will see the full image in a separate window. These were shot with a Nikon D70 – lens AF-5 Nikor 18-70mm 1:35-4.5G ED or AF Nikor 70-300mm telephoto.
__________________________________
Source:
Hollywood's French Connection (is not what you may think)
Discover Hollywood - January 1, 2005 - Todd Everett
Everett discusses the numerous local replicas of French chateaux.
American chateaux aren't unique to Hollywood, or even Los Angeles. But somehow, they seem to belong here surrounded by a bewildering blend of architectural styles, ranging from the classical to Spanish revival to streamline moderne. So how did they come to Hollywood? "During World War I," explains Laura Massimo, "For the first time in history thousands of American soldiers were sent to France where they saw these amazing chateaux, or castles. Most had never seen anything comparable to the beauty and scale of these enormous structures.

Years later in the 20's and 30's this unforgettable experience was translated into European-inspired fantasy buildings." A true chateau being a rather massive structure, most of those in Los Angeles were built as apartments or residential hotels, explains Massimo – author and owner of Architecture Tours L.A. [Schiffer Publishing Ltd.]
One -
Chateau Beachwood
(Walter C. King - 1937)
6051-65 Scenic Avenue

Originally built by Warner Bothers Pictures (unconfirmed) to house female contract players - ten two-story units – one a condominium whose absentee owner has rented to Madonna and Sean Penn, to Anne Heche and to director Paul Weitz ("American Pie").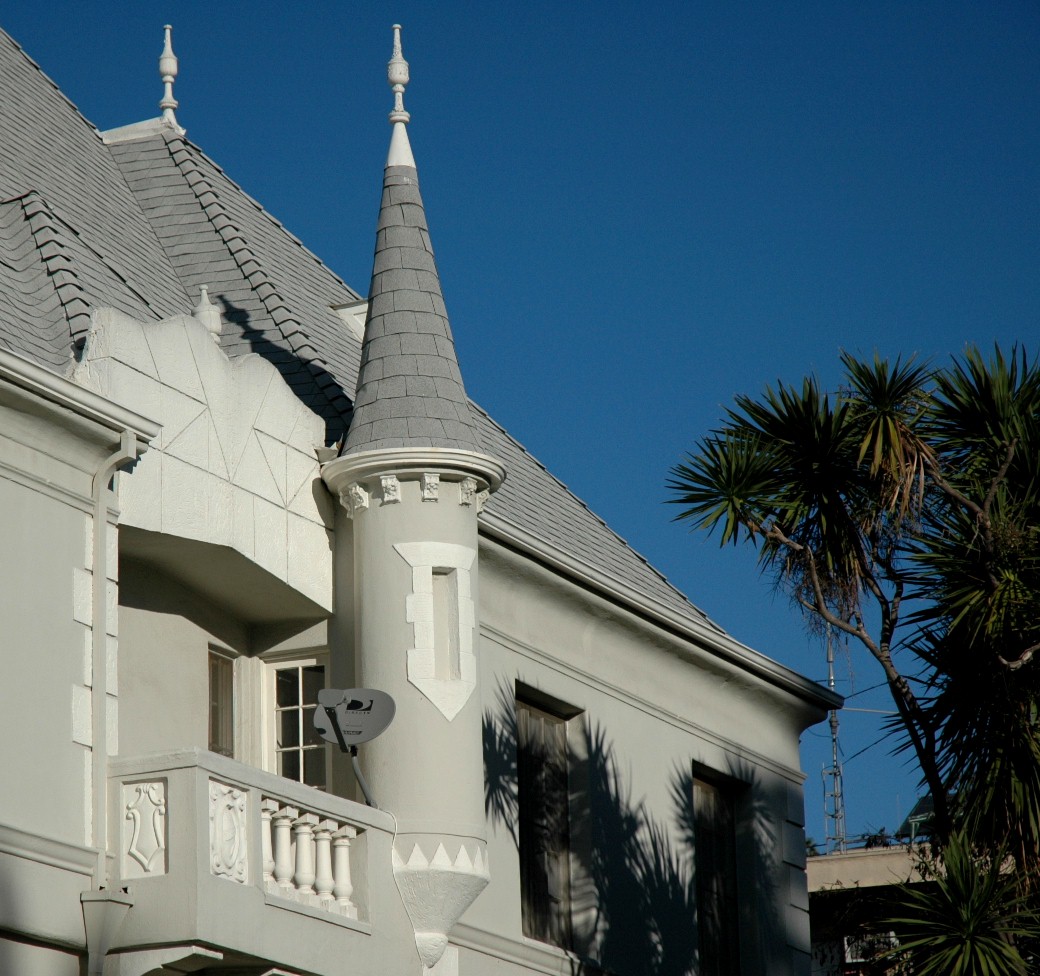 Two -
Hollywood Tower Apartments
(Cramer & Wise - 1929)
6200 Franklin Avenue


Actor George Raft is said to have built the former La Belle Tour as a residential hotel; through the years it became progressively seedier, but has recently been restored and is now an apartment building, still with a wide (if not exclusive) range of above and below the line show-biz types. Its unique "V" shape, rumor has it, was to strengthen the then-hotel as a precaution against earthquakes.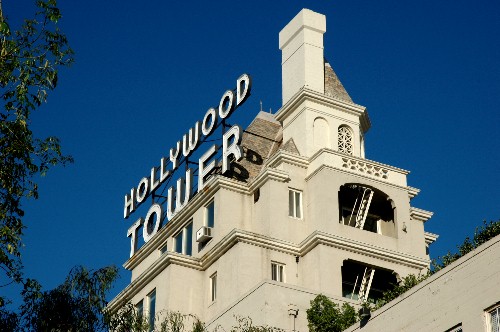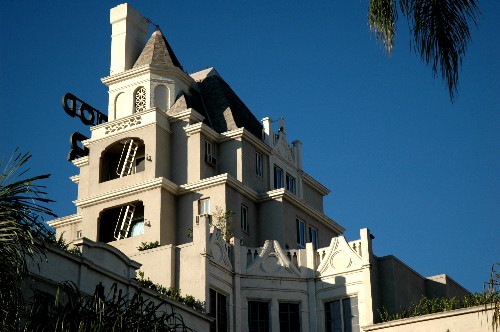 Three –
Trianon Apartments
(Leland Bryant - 1928)
1750-54 Serrano Avenue
Named after Marie Antoinette's petite hideaway chateau at Versailles in France - possibly because "Chateau d'Azay-le-Rideau," the 16th century Burgundian military outpost that actually served as its prototype, would fit awkwardly on the huge sign that tops the structure. Architect Leland Bryant also designed the art deco Sunset Tower, now known as the Argyle Hotel, on the Sunset Strip.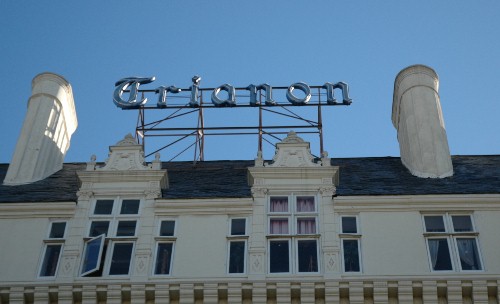 Four –
Wolf's Lair
(1927)
2869 Durand Drive


Art director L. Milton Wolf built this replica Norman castle as his family home. It's an early style of chateau. Fronting the narrow, winding Durand Drive is a stone rampart broken in places by slit-like ports to pour boiling oil on, or fire arrows at, trick-or-treaters, door-to-door solicitors, or other potential intruders. Inside and above the wall, there's a 360-degree view, ranging from the Lake Hollywood reservoir directly below to - on a clear day - Catalina Island, and back to the "Hollywood" sign. Among the other former occupants: Debbie Reynolds. Efram Zimbalist Jr; Marlon Brando, and The Beatles. Supposedly, a tunnel leads from the main house to a secret apartment under the gatehouse, all the better for assignations with starlets. We know for sure that one of the building's miniature turrets was designed as a home for Wolf's pet gibbon.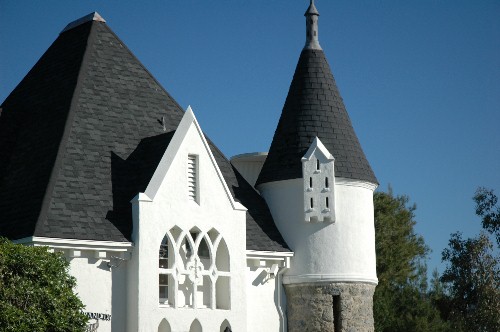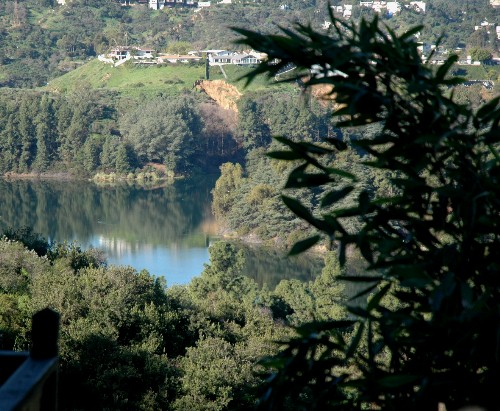 Four –
Celebrity Centre
(Arthur E. Harvey - 1927)
5930 Franklin Avenue
The former Chateau Elysées was built as a luxury apartment hotel by Eleanor Ince, widow of famed director Thomas Ince. A long-standing rumor has the building financed by William Randolph Hearst. But Ince's family insists that the money came from the sale of another Ince property. In any event, the building – a seven-story 17th-century Normandy castle replica – was an Industry playground for years, but thoroughly run down when purchased in 1972 by the Church of Scientology, who painstakingly restored the property over the last 20 years. Dying trees were brought back to life; tiles and other building materials were imported from France and a landscape architect sent to the there for inspiration and to ensure accuracy.
Several floors are now hotel rooms (for Church members only) with the top stories office space. Free guided tours are available to the general public… Non-members are invited to the lovely French rococo-styled Renaissance Restaurant, where Sunday brunch is a specialty.