If you use any of these photos for commercial purposes I assume you'll discuss that with me. Note: To see an actual-size high-resolution version of a particular photograph, click on the image. You will see the full image in a separate window. These were shot with a Nikon D70 – lens AF-5 Nikor 18-70mm 1:35-4.5G ED - or AF Nikor 70-300mm telephoto.
_____________________
Santa Monica, CA
1328 Montana Avenue, Santa Monica, CA 90403
Built by the Donald Douglas Company in 1939, the Aero Theatre was originally opened as a continuous 24-hour movie theater for aircraft workers who worked in shifts around the clock. It later became a beloved neighborhood theater and has anchored the now posh Montana Avenue section of Santa Monica.

Robert Redford's ill-fated Sundance Cinemas project was slated to take over the Aero, but pulled out after the bankruptcy of General Cinemas and its subsequent sale to AMC and it closed in 2003. The Aero was the boyhood cinema of the famous actor/director.

In January 2005, the Aero was reopened by the American Cinematheque after a $1 million dollar restoration including a new screen, sound and projection equipment, a new concession stand and reduced seating, from nearly 600 to 400. The American Cinematheque also operates the Egyptian Theatre in Hollywood
This is it.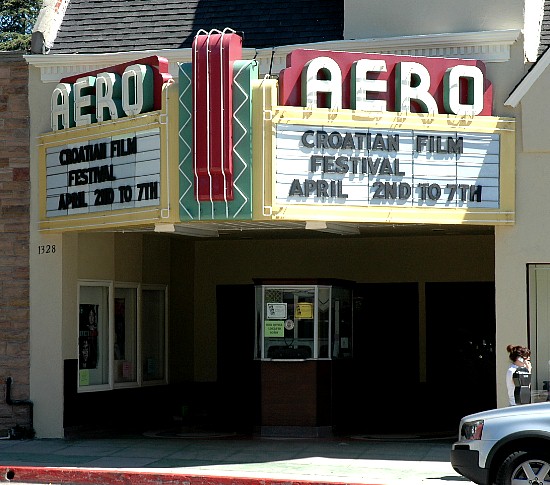 But it isn't all Croatian, all the time –
The Malibu Film Festival (MFF) will screen over 30 films at the Aero Theater in Santa Monica in the sections of Short Live Action Films, Animated Short Films, Short Subject Documentary Films, Feature Length Documentary Films, Narrative Feature Films, announced by new Festival Director, Tiffany Peckosh. The Festival will feature 5 World Premieres, 9 West Coast Premieres, 3 Los Angeles Premieres and 4 Academy Award Nominated shorts. Awards night will take place at Wolfgang Puck's Granita Restaurant in Malibu which will award the winning films and filmmakers of this year's festival and honor Pierce Brosnan with an Award for Achievement in the Arts.
Malibu is just up the way.
And on the way there?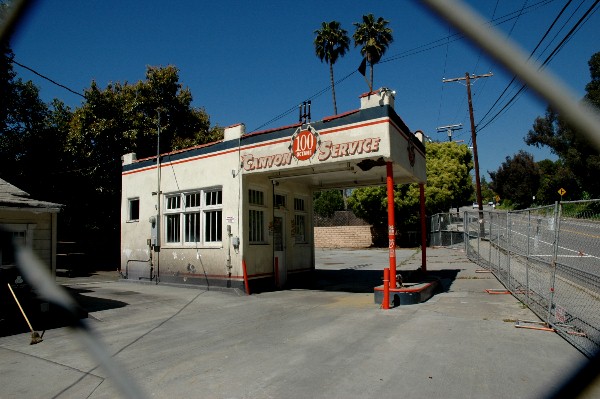 From the Santa Monica Mirror
Volume 1, Issue 15 September 29 - October 5, 1999
Canyon Service Station is a throwback to those days in both looks and spirit. The little old-fashioned gas station on Entrada reopened Friday, under the enthusiastic management of Brian Clark.
The station was built in 1924 by Pasqual Marquez, a scion of the family who had been deeded Santa Monica Canyon and much of what is now Pacific Palisades. (Sunset Boulevard was originally called "Marquez.")

"It was kind of like a piece of history that was still here while everything else was being torn down," Clark said.
And four years later, this -
SM Canyon Board Will Meet Tuesday
The Santa Monica Canyon Civic Association board will meet in the Gallery Room in the Rustic Canyon Recreation Center on Tuesday, January 4, 2005, at 7:00 p.m.

… There will also be an update on the City Council Candidate Forum that is set for February 1, the status of the Canyon Service Station Historic-Cultural Monument application, the Prop. K Project in Rustic Canyon Park and setbacks at 643 East Channel Road will be discussed.
And then the New York Times on Thursday, 20 January 2005 publishes this by Nick Madigan -
It is perhaps only in car-centric Los Angeles that preservationists and historians could get all riled up over the fate of an old gas station.

The tiny, 81-year-old Canyon Service Station, which closed a few months ago and is now fenced off, its three pumps gone, was always a landmark to its neighbors in Santa Monica Canyon. They considered it a quaint, playful relic of the days before Los Angeles was overrun by freeways, noise and traffic reports beamed from helicopters.

But then the owners, Monica Queen and four of her relatives, decided to sell the station, which her grandfather built on what is now the last piece of once-vast land holdings granted to their ancestors in 1839. Ms. Queen, who lives in a small house behind the station and says she subsists on not much more than Social Security, found a buyer: her neighbor, Chris Hoffmann, an investment banker, who agreed to pay $2.1 million for the 16,000-square-foot lot.

Mr. Hoffmann's plan was to expand the small avocado grove in his backyard into what is now the gas station and, in a nod to preservationists, ship the station's building to the Petersen Automotive Museum That is when the problems began.

Alarmed members of the Santa Monica Canyon Civic Association appealed to Los Angeles officials to designate the building as a monument, which would hold up any movement of the station for at least a year. The proposed designation has been approved in principle by the city's Cultural Heritage Commission but has yet to be acted upon by the full City Council. It scuttled for now the property's transfer and infuriated Ms. Queen and her relatives. …
The tale?
… A group of homeowners and business people - including Brian Clark, who operated the station from 1995 until 2004 - say they are trying to come up with money to buy the station and leave it in place. Mr. Clark has said he would return to operate it with, presumably, the replica orange-and-white gasoline pumps he installed there and then removed after his lease expired.

The plan has the backing of a City Council member, the Pacific Palisades Historical Society, the Society for Commercial Archeology and the Route 66 Association.

"It's critical to preserve the gas station," said Quentin Fleming, a board member of the civic association who has lived in the canyon for six years. "It's almost out of Andy Griffith and Mayberry, from another era. On a cold, rainy night, when you're driving up the canyon and you see the glow of the gas pumps, it literally welcomes you home with open arms. It's like a lighthouse."

Mr. Fleming praised the station's "rare architectural style, from before mini-marts and Slurpee machines," although he acknowledged that much of its decor, including the signs and logos, was not original.

The sale of the station was prompted by the death of Ms. Queen's mother, Angelina Marquez Olivera, who ran it for many years, in 2002. She was a descendant of Francisco Marquez, a blacksmith from Guadalajara, Mexico, who had set up a smithy in Santa Monica Canyon in the 1830's, in what was then Alta California, a part of Mexico. In 1839, Marquez and a business partner received the title to Rancho Boca de Santa Monica, a 6,656-acre tract that now includes Santa Monica Canyon, the Pacific Palisades and parts of Topanga Canyon.

"This is our legacy," said Ms. Queen, 63, sweeping her arm across the bricks-and-mortar panorama of the gas station. "It's all we have left."

Ms. Queen, who was born in a house just down the canyon, said she saw no reason that the station would not be just as valuable historically in the Petersen museum.
And this -


… Ken Bernstein, director of preservation for The Los Angeles Conservancy, said there was a big difference between leaving the gas station in place and putting it in a museum.

"We believe it's the oldest continuously operating gas station in Los Angeles," Mr. Bernstein said. "It is truly a beloved local landmark, and it is tied to the history of its place, the rich history of Santa Monica Canyon."
It's still there.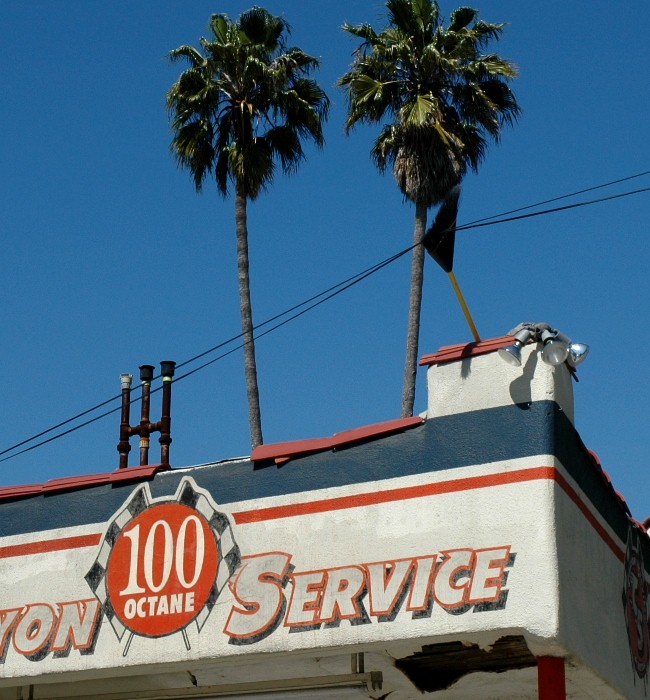 A musical landmark?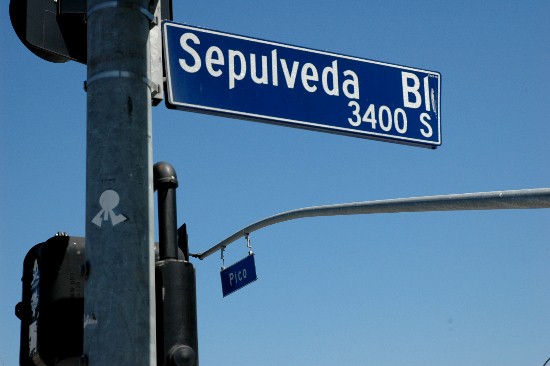 … born Barret Hansen, being the proud owner of a master's degree in music from UCLA under that moniker, but he's far better known to millions of radio listeners as "Doctor Demento." In 1995, he celebrated his 25th anniversary of broadcasting the greatest novelty records of all time, both new and old. In that time, he's elevated the novelty record -- in all its myriad styles -- to a high trash culture art form. He's made hits out of 40-year-old records that no one had ever played, and was singularly responsible for the success of "Weird Al" Yankovic, whose song parodies debuted on his show. Hansen's journey from record collector to national personality is the journey of the radio everyman, but one also grounded in a solid knowledge of American music in all its glorious forms.
… Sitting in as a guest on a '50s rock & roll oldies radio show on KPPC-FM in Pasadena, CA, in 1970 was the turning point in his broadcasting career, and where his radio character truly began in earnest. When his DJ friend Steven Siegal asked him to bring in some off-the-wall rock & roll singles for the upcoming week's show, the seeds of what would soon become the Doctor Demento Show were sown. He went from on-the-air guest to his own Sunday night shift and, as he quickly noticed, "everybody liked the obscure blues and doo wop records well enough, but every time I played 'Transfusion' by Nervous Norvus, the phones lit up like crazy." Knowing a good thing when it landed in his lap, the good Doctor started experimenting with tunes from an era that was beyond the rock & roll pale. A good example of this was 1947's "Pico and Sepulveda," which would become his show's theme song.
… In 1975, his profile was high enough that Warner Bros. issued the first collection of selections from his radio show, Dr. Demento's Delights, paving the way for other likeminded compilations on Rhino Records. Hansen has also stayed active with liner note and comp work on such diverse projects as Rhino's John Fahey and Spike Jones collections and the "Weird Al" Yankovic box set on Capitol. With a new syndication company firmly in place and the 2000 release of the Dr. Demento 30th Anniversary Collection: Dementia 2000 set, he showed no sign of slowing down in his pursuit of recorded dementia.
"Pico and Sepulveda" was recorded by Felix Figueroa & His Orchestra and you can download it here in WAV or MP3 format should you want to listen.
Fourth Street, Santa Monica
Looks calm, doesn't it?
But parked to that man's right? A subversive SUV. Actually it was a very large Jeep thing with a roof rack with three surfboards. Bush has lost the surfers and folks with the giant, stupid vehicles?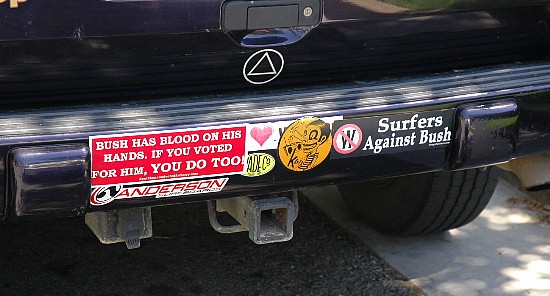 At the end of the street, the canyon stairs – endless numbers of healthy folks walking up and then down and then up and then down. It's a California thing.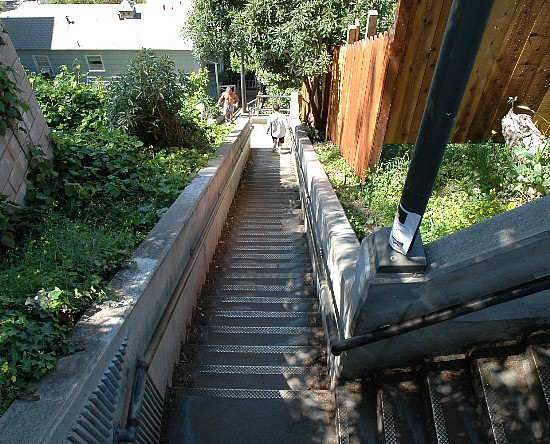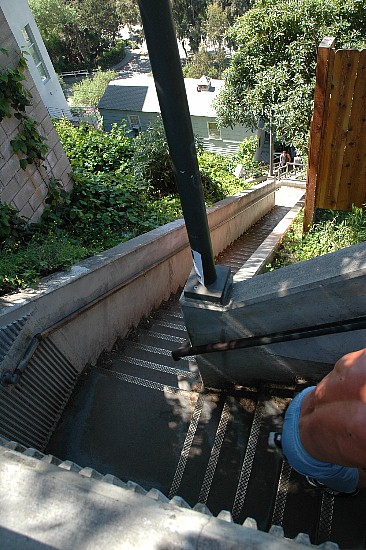 Oh, and a nearby lemon tree. Very healthy.
But everyone needs a big fig tree. This is a Moreton Bay Fig Tree (Ficus macrophylla) – native to Australia, but all over these parts.
This is the one at Saint John's Presbyterian Church, 11000 National Boulevard, at Military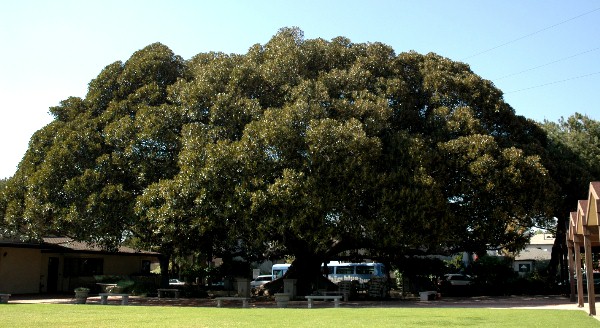 And it has a history –
The tree has become the symbol of St. John's as well as the delight of passersby and visitors. Brought to Los Angeles from Australia, it was planted in 1875 by the original property owner in honor of his first born son. In 1963 the Cultural Heritage Board of Los Angeles declared it Historic Cultural Monument No 19.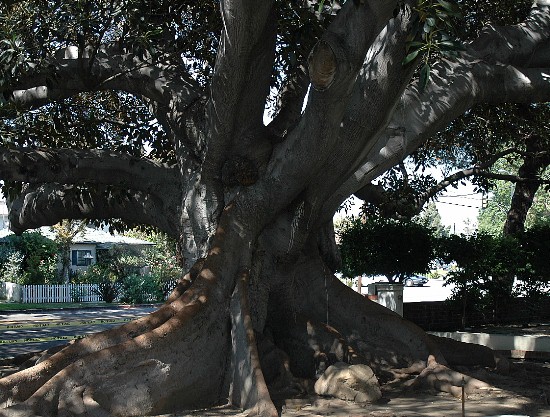 Paris may have the big iron tower and those old cathedrals, and London may have Big Ben and Wren's Saint Paul's dome all that. We here have our old movie theaters, funky old gas stations and big fig trees. And as I said to a sweet young thing once, we'll always have Pico and Sepulveda.