Last week, on July 6th, you might have caught Watch the Skies! - a survey of American science fiction films of the 1950s, directed by Time magazine film critic Richard Schickel, on Turner Classic Movies (TCM). I usually trust this man's reviews, although the only time I ever met him was when he was on our campus in the late sixties to judge a college film festival, and as I recall he was gloriously hammered the whole time. Central Ohio will do that to you. Anyway, one segment of the TCM documentary was this:
The Word from on High: Not all visitors to this planet have been malevolent. Beginning with Robert Wise's The Day the Earth Stood Still, aliens with a message of peace have been preaching to their lowly human counterparts. Even Spielberg's ET: The Extra Terrestrial had something to teach the world.
That brings us to this photo – in a window on La Brea many blocks south of Hollywood Boulevard – Gort, Klaatu's robot from Robert Wise's movie -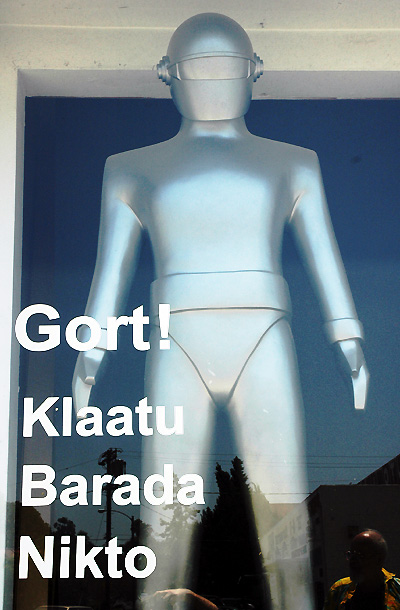 The movie, a noted here by the film folks at San Diego State University –
Released September 28, 1951, by 20th Century Fox, 35mm black and white negative, 1.37:1 screen ratio, mono sound, 92 mins.
Production:
Produced by Julian Blaustein [who read sci-fi magazines & persuaded Darryl Zanuck to buy the story]
Directed by Robert Wise [who had edited Citizen Kane & would direct Star Trek in 1979]
Screenplay by Edmund H. North, based on the 1940 story Farewell to the Master by Harry Bates [who ended his story with Gort as the real master over Klaatu]
Music by Bernard Herrmann [his first use of electronic music, such as the theremin]
Edited by William Reynolds
Costumes by Trevilla [Gort's rubber suit sprayed with metallic paint]; Perkins Bailey [Klaatu's costume]
Special effects by Fred Sersen [2 months for optical printing of ray beams from Gort's helmet]
Set design by Lyle Wheeler, Addison Hehr [built 350-ft. diameter, 25 ft. high saucer mostly of plaster except ramp, at cost of $100,000]
Award: Golden Globe for Best Film Promoting International Understanding
Cast:
Michael Rennie as Klaatu (earth alias Mr. Carpenter)
Patricia Neal as Helen Benson [later won Oscar for Hud in 1963]
Hugh Marlowe as Tom Stevens, insurance salesman and Helen's jealous boyfriend
Billy Gray as Bobby Benson [later as Bud on 1954's Father Knows Best]
Sam Jaffe as Professor Barnhardt, an Albert Einstein-like physicist
Frances Bavier as Mrs. Barley, a guest in the boarding house [later as Aunt Bea in Andy Griffith]
Lock Martin as Gort, robot who assists Klaatu [in real life the 7 ft.-7 in. doorman at Grauman's]
Frank Conroy as Mr. Harley, Secretary of Defense
Drew Pearson, Gabriel Heater, Elmer Davis and H. V. Kaltenborn play themselves
You might remember it. Also from their notes:
In this science fiction narrative, "an alien planetary federation," disapproving of Earth's policy of atom-bomb testing, dispatches Rennie and his robot, Gort (his name changed from Gnut in Bates' story) to warn Earth stop its aggression or be blown apart. Like Ezekiel's biblical wheel sent by God, the duo land in Washington DC at 3:47 EST in an impressive flying saucer with a spiritual message. Rennie (a British actor in his first American film) is gunned down by fearful soldiers. A revengeful Gort kills the soldiers and reactivates him. In a memorable peroration, he warns Earthlings that they must either live in peace or be destroyed by Gort and his kind. What makes the film so successful is Wise's balancing of his ominous allegory with the sub-plot of Rennie's attempts to discover what humans are really like by taking a room in a boarding house where he meets Neal (who gives a superb restrained performance) and her young son (Gray). Fittingly, it is Neal who saves the day, uttering the immortal phrase "Klaatu barada nikto" and so stopping the robot from destroying Earth after Rennie's 'death'." …
And that explains "Klaatu barada nikto" in the window on La Brea.
Here is Gort's head –
It should be noted that Colin Powell said this film had a big influence on Ronald Reagan, who was a big time sci-fi fan. As you recall Reagan proposed to Gorbachev at their first summit meeting in Geneva that the US and USSR should cooperate if the earth were to be invaded by aliens from outer space. Gorbachev was no doubt a bit taken aback. One should note also that Ringo Starr put a picture from the movie of Klaatu and Gort on the rim of their saucer on the cover of his "Goodnight Vienna" album.
For a really pretentious academic evaluation the film, try this from David Walker, Ph.D. That ends with this -
When given a hint of such a possibility, will psychoanalysis ratchet down its structure harder, wound the intruder, and shoot the threatening device for exploration from the explorer's grasp with the ammunition of parochialism? Will it take apart its own assumptions and dispositions for sake of internal peace? Or will psychoanalysis warn humanity that its own conventionality, obtuseness and close-mindedness is the pathway to destruction? Klaatu berada nektu.
Wow.
I'm not sure its all that deep, but my favorite detail in the film is where Michael Rennie as Klaatu (alias Mr. Carpenter) slips into Professor Barnhardt's office and fixes the equation on the blackboard. The cool thing is that it's real - the "three body problem" to account for the location of any three objects in space. Nice touch.
The San Diego folks say this:
It is a film that has many layers of historical meaning. In 1950 when the script was written, the nation was gripped by Cold War paranoia. The country was fighting a losing battle in Korea; Sen. Joseph McCarthy had declared his discovery of communists in government; Parnell Thomas' HUAC was contributing to the paranoia by investigating communist influence even in Hollywood; the Cultural and Scientific Conference for World Peace was held at the Waldorf-Astoria Hotel in New York in 1949 to try to dispel the paranoia; the cornerstone of the new United Nations building was laid in 1949; the Russians had exploded their first A-bomb in 1949 causing the US by mid-1950 to develop Edward Teller's fusion "superbomb" of unknown destructive power; the White Sands Missile Range was releasing newsreel film from automatic cameras on the first test rockets in the Viking program built by the German team headed by Werner von Braun who had developed the V2 in World War II and in April 1950 became head of the Army Ballistic Missile Agency at the Redstone Arsenal in Huntsville AL; Edward Ruppelt, the first director of Air Force Project Bluebook, had coined the new term UFO to describe the strange sightings of 9 objects that began in 1947 with pilot Kenneth Arnold that newspapers called "flying saucers"; and Air Force Captain Thomas Mantell died Jan. 7, 1948, when he flew his F-51 without oxygen equipment too high chasing an object at 20,000 feet. Was earth being visited by aliens? Would mankind destroy itself in atomic war? Were we all being robotized by fear and paranoia? …
Ah, those were the days. You had to be there. And when I was a mere lad back in those days I met Werner von Braun once at a science fair. How odd.
(For a review of the TCM documentary see this – "Watch the Skies! is a smart and entertaining, if limited, tour of the richly paranoid psyche of mid-20th-century America.")
Next to Gort on La Brea is a billboard for a new film in this genre, Stealth, based on today's paranoia – "In the near future, the Navy develops a fighter jet piloted by an artificial intelligence computer. The jet is placed on an aircraft carrier in the Pacific to learn combat maneuvers from the human pilots aboard. But when the computer develops a mind of its own, it's the humans who are charged with stopping it before it incites a war..."
The billboard looms above this pink wall.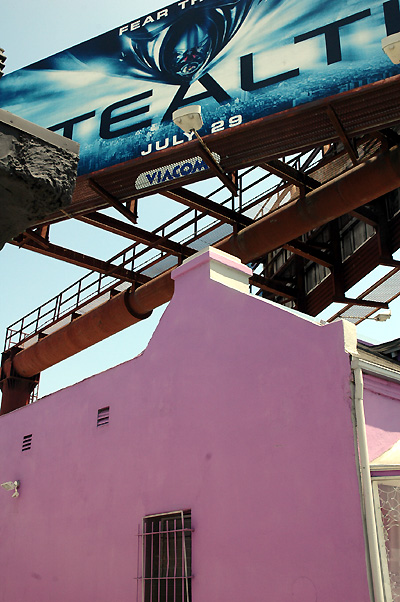 The film? See this -
Release date: July 29, 2005
Cast: Josh Lucas, Jessica Biel, Jamie Foxx, Sam Shepard, Joe Morton, Richard Roxburgh
Synopsis: A squadron of elite pilots embark on a mission of global consequence to neutralize an out-of-control prototype drone fighter plane equipped with artificial intelligence and the ability to precipitate a nuclear war.
Director: Rob Cohen
Studio: Columbia Pictures
Producers: Laura Ziskin, Mike Medavoy, Neal H. Moritz
Screenplay: W.D. Richter, Rob Cohen
Note: The new film was made at the famous Sony, Columbia, Tri-Star Studios, formerly MGM Studios (Gone With the Wind and all that) - down the hill in Culver City – and that was covered in a collection of photos back in February here.
Screw the new film. More of the pink wall here –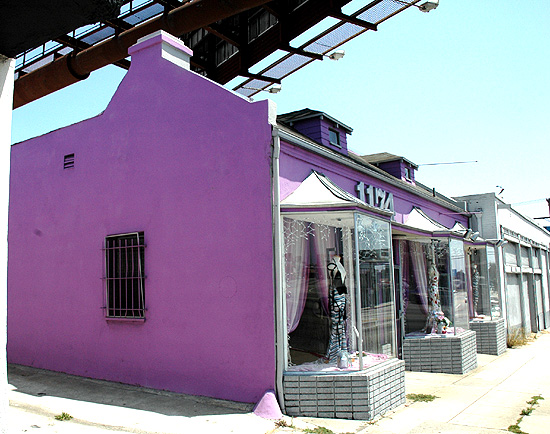 Moving away from Hollywood, our high-powered Wall Street attorney friend last weekend attended a wedding in Toronto and sends along these shots of the CN Tower there, which seems to many to be a sort of Canadian science fiction thing…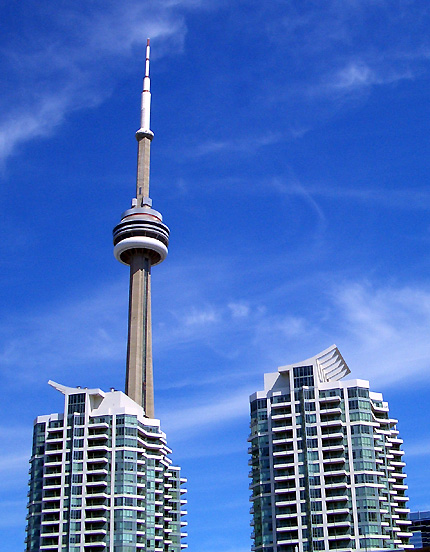 Photo Copyright 2005 M. A. Hewitt
And were Gort and Klaatu cruising up that way back in the fifties, they'd see this as they started to cross the lake to buzz Toronto. That's the Niagara River at Fort Niagara, on the right, the American side, and Niagara-on-the-Lake on left, the Canadian side. The Falls are way upstream of this.